Having begun as a painter of large works in the 1990s, by 2000 Frohsin was concentrating on works on paper – drawings, prints, works in gouache, and the like; for example, she did regular work with Trillium Press, where she had a ten-year retrospective in 2004. The main body of her work continues to be figure studies, drawn in a strongly expressionist style, using an array of models who, for her, are fellow collaborators as well as sources of inspiration, of individual works as well as complete series, including "In The Abstract" and "Provocative Poses." Frohsin also does still lifes and landscapes and is working on an autobiographical sequence, based on a collection of everyday objects and family heirlooms.

By following her own frank passions, formidable skill, and the impulses of a vigorous and finely balanced talent, Frohsin has shown just how much is still to be done with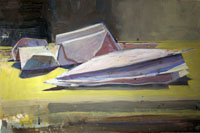 with a steady gaze at the human figure, a command of composition and line, an emotionally frank sensibility, and a sense of texture and color - a delight in the materials of her art - that is at once sensual and probing, inward and yet oddly playful. Her art revels in and explores a sensual darkness. Her work on the human figure has much of the compositional vigor of Degas's late nudes, Rouault's smudged and ragged stained-glass effects, and Egon Schiele's sexual energy (without his torment) while expressing the integrity of an individual vision that understands the human body as both provocation and engagement. Not least, her work offers many pleasures.