From the album "Down Route 5"


Direct link: mp3

Camberwell Carrot are:
Jason Lewis - Drums, vocals
Ho Lin - Bass, vocals
Ping Lin - Keyboards, vocals
Tim White - Guitars, vocals

CD Baby: Down Route 5
iTunes: Down Route 5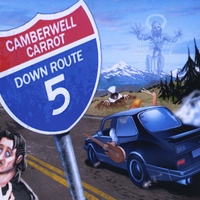 Tim White: We recorded this song with nothing more than a riff and a chorus - Fuck Me Up. I wrote half the lyrics and then ran head-on into a massive case of writer's block. (The ever-prolific) Ho jumped in and we managed to cobble our two separate lyric strings together into one semi-coherent song. When time came to record the vocals, an amazing discovery was made: I had written the song in a key I couldn't sing to save my life. After several terrible attempts to power through and sing it anyway, I pleaded with Ho to give it a shot...and he nailed it. A glimpse into the genius creative mindset that is The Carrot....